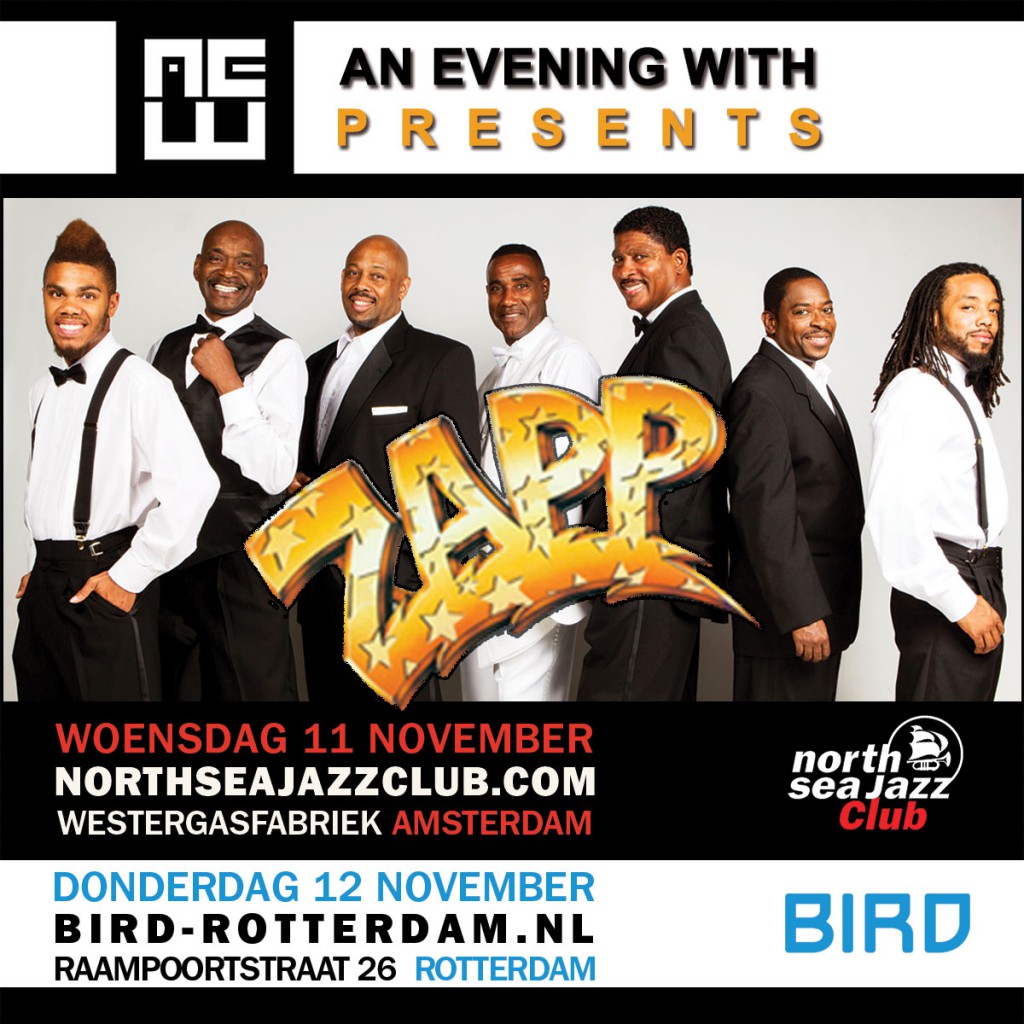 AN EVENING WITH … THE ZAPP BAND || 11 & 12 NOV 2015 ||
LET ME SEE YOU MOVING ON THE DANCE FLOOR
Het moment waar alle funkers al jaren op wachten, na een aantal jaar stilte rondom deze legendarische band gaat het nu gebeuren:
An Evening With …presents: THE ZAPP BAND , live in de North Sea Jazz Club Amsterdam op 11 november en in Bird Rotterdam op 12 november 2015.
Na het laatste optreden in Nederland in 1997 komen ze weer terug…en hoe! ZAPP, on tour, zonder Roger weliswaar, maar met een ijzersterke band en naast de legendarische producties ook met nieuw materiaal en een veelbelovende, spectaculaire live show vol vieze funksongs.
Een funkavond die je niet snel zal vergeten, van een onmiskenbaar goeie band, waarbij stil zitten niet gaat lukken! Kijk voor een voorproefje en live materiaal ook eens op: http://www.thezappband.com/
DATA AN EVENING WITH ZAPP
11 november | North Sea Jazz Club Amsterdam
* Deuren open: 20:00 uur
* Aanvang: 21:00 uur
* Staanplaatsen: € 25,00
* Tickets en meer info: http://goo.gl/dgp5PO
* Locatie: North Sea Jazz Club
* Adres: Pazzanistraat 1, 1014 DB Amsterdam, Westergasfabriek)
* Facebook Event: https://goo.gl/Rp6YRh
12 november | Bird Rotterdam
* Deuren open: 20:00 uur
* Aanvang: 20:30 uur
* Staanplaatsen: € 25,00
* Tickets en meer info: http://goo.gl/MgjR8c
* Locatie: Bird Rotterdam
* Adres: Raampoortstraat 24-28, 3032 AH Rotterdam
* Facebook Event: https://goo.gl/XSTzbm