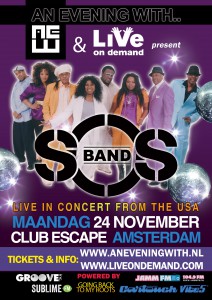 An Evening With heeft het voor elkaar gekregen dat de SOS Band daadwerkelijk op 24 november 2014 komt optreden in Nederland, en wel in de Amsterdamse Club Escape. Middels het crowdfund platform Live On Demand is gebleken dat er genoeg mensen zijn die dit voor geen goud willen missen! Een mijlpaal, daar er een relatief korte funding periode is geweest.
SOS Band
Dat de uit acht man bestaande Sounds Of Succes Band in originele bezetting met leadsinger Mary Davis zal optreden, is natuurlijk al een gebeurtenis op zichzelf. Vele fans praten nog na over het, tot nu toe, ongeëvenaarde concert uit 1986, dat plaatsvond op dezelfde plek. De locatie, de muziek, het fantastische publiek, de jongen Jason die een onverwacht goede zanger bleek toen ie eenmaal op het podium stond. Momenten die allen met de twee magische woorden omschreven kunnen worden, namelijk "The Finest".
An Evening With is zo enthousiast dat er een tweede uitdaging wordt aangegaan, tezamen met het publiek
De SOS Band treedt namelijk in Engeland op met niemand minder dan LOOSE ENDS! Er is een mogelijkheid om ook Loose Ends aan de line up toe te voegen hier in Nederland.
Loose Ends, onder andere bekend van hun super hit "Hangin'On A String" uit 1985, behaalde met deze single als eerste Britse groep ooit de nummer 1 positie in de US Billboard R&B Chart!
De organisatie garandeert dat Loose Ends toegevoegd zal worden indien er voor 10 november 2014 een break van 85% wordt gehaald, namelijk 850 kaarten. Het publiek bepaalt!
Het percentage verkochte kaarten en het verloop kan via onderstaande link bekeken worden:
http://www.liveondemand.com/events/soul-jazz/s-o-s-band/191
Komt Loose Ends samen met de SOS Band naar Nederland 24 november 2014? Dat heeft het publiek zelf in de hand. Een unieke nieuwe manier om een onvergetelijke avond te realiseren, dat zeker perspectief biedt voor de toekomst en veel meer mogelijkheden geeft om liefhebbers werkelijk te geven wat ze willen zien, want jij bepaalt zelf!