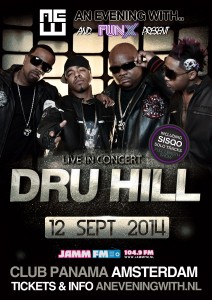 Na twee eerdere nagenoeg uitverkochte edities met o.a. Alexander O Neal, Blackstreet en Karyn White zal het evenement "An Evening With…." in Club Panama Amsterdam wederom een succesvolle editie gaan neerzetten op 12 September 2014.
AN EVENING WITH….. DRU HILL. Jazeker. Het is de organisatie gelukt om deze razend populaire R&B groep (de complete formatie) te boeken. Het concept van dit nu al populaire evenement is dat de avond geheel in het teken staat van een bepaalde iconische artiest of groep aangevuld met de beste dj's. Deze keer valt die eer dus te beurt aan DRU HILL . Met hits als How Deep Is Your Love, Tell Me, In My Bed en Big Bad Mama (ft Foxy Brown), heeft deze groep onmiskenbaar zijn stempel gedrukt op de R&B scene van de afgelopen 20 jaar. Naast het gezamenlijke optreden van Dru Hill zal ook SISQO op deze avond solo performances doen van zijn grootste hits zoals Thong Song, Got To Get It en Incomplete.
AREA 1: MAIN AREA
Artists:
Dru Hill (How Deep Is Your Love, Tell Me, In My Bed en Big Bad Mama, etc)
Sisqo (Thong Song, Got To Get It, Incomplete, etc)
Deejays:
DEEJAY KID (Timeless, Sinners, Dubbelfris, etc)
DJ ORLANDO (MTC, Going Back To My Roots, Metropool, etc)
DJ MAD (Club Caribbean, El Mejor, Going Back To My Roots, etc)
AREA 2: LOVERS LANE area powered by EL MEJOR
Deejays:
DJ Meldevo (El Mejor, Chillout, More than Classix, etc)
DJ Cliffhanger (Club Caribbean, Brasil Bar, etc)
Een complete avond dus, met een full concert en solo optredens. Kortom : AN EVENING WITH…….. op zijn best. Ook voor deze avond zijn er weer VIP arrangementen beschikbaar. Check voor meer info hierover www.aneveningwith.nl of www.partyclick.nl, via email info@aneveningwith.nl of bel met 0655 125562, 0654 210528 of 0654 778668
ALGEMENE INFORMATIE:
An Evening With….. Dru Hill & Sisqo
Datum: vrijdag 12 september 2014
Locatie: Panama Amsterdam
Adres: Oostelijke Handelskade 4, Amsterdam
Tijd 22:00 – 05:00 uur (vrijkaartje of gastenlijst geldig tot 00.00 uur)
Aanvang optredens: 00:30
Minimum leeftijd: 21+ – BIJ TWIJFEL ID VERPLICHT!
VVK KAARTEN à 32,50 EURO (more at the door) verkrijgbaar bij:
Online:
www.aneveningwith.nl
www.partyclick.nl
www.panama.nl
Hardcopy tickets: Café de Draver. – 2e Oosterparkstraat 2, Amsterdam
Pico Records – Bijlmerplein 520, Amsterdam ZO
Billboard Records – West-Kruiskade 47, Rotterdam
Voor Vip tickets en Vip tafels kan gebeld worden met 06-54210528 of met 06-55125562 of met 06-54778668.