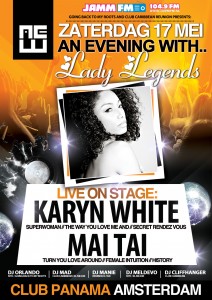 Niet geheel onverwachts, maar toch indrukwekkend. Dat zijn de juiste bewoordingen voor de eerste ( en geheel uitverkochte ) editie van AN EVENING WITH…… (VALENTINE CLASSICS). Op deze Valentijnsdag lanceerde de organisatie van o.a. Going Back To My Roots meets Caribbean een nieuw concept genaamd " An Evening With……". Dit terugkomend evenement zal op iedere editie een artiest lanceren, waar de avond om zal draaien. Met name iconen uit het verleden, maar ook artiesten die momenteel furore maken zullen hier de revue passeren. Aangevuld met op de artiesten aangepaste dj's zorgt deze avond in een grote , doch intieme club voor de juiste combinatie, waardoor uw uitgaansavond compleet in balans is.
Op zaterdag 17 mei a.s. we proudly bring you…..AN EVENENING WITH………LADY LEGENDS in CLUB PANAMA te AMSTERDAM met live on stage from the USA….niemand minder dan KARYN WHITE, bekend van o.a.de hits SUPERWOMAN, THE WAY YOU LOVE ME en SECRET RENDEZ VOUS. Karyn White zal voor het eerst een optreden in Nederland geven, wat dit evenement op zich al uniek maakt. Alsof de aanwezigheid en het optreden van deze superster op dit evenement alleen al niet voldoende is, heeft de organisatie er voor gekozen er een voor Nederlandse begrippen al even spraakmakend voorprogramma in te gooien. Niemand minder dan 80's lady Group MAI TAI verzorgen het voorprogramma van KARYN WHITE. Wie kent ze niet? De Nederlands/Surinaamse dames die hoge noteringen haalden in de jaren 80 met o.a. hun hits HISTORY, FEMALE INTUITION en TURN YOUR LOVE AROUND.
Ook deze keer hebben we weer twee zalen. De dj's zorgden op de vorige editie van AN EVENING WITH…… voor vuurwerk en er werd dan ook doorgefeest tot de vroege uurtjes. In de grote zaal zullen de optredens plaatsvinden en hebben we drie top DJ's uit de Classic scene die de beste 80's en 90's classics zullen draaien. De tweede zaal is Powered by EL MEJOR en daar zul je de beste Slowjams, Soca, Merengue, Salsa en Bachatas horen.
AREA 1: MAIN AREA
Artists:
KARYN WHITE (Superwoman, The way you love me, Secret Rendez Vouz, etc)
MAI TAI (History, Female Intuition, Turn your love around, etc)
Deejays:
MANIE (Reminisce, New Jack City, Challenge Reunion, etc)
ORLANDO (MTC, Going Back To My Roots, Metropool, etc)
MAD (Club Caribbean, El Mejor, Going Back To My Roots, etc)
AREA 2: LOVERS LANE area powered by EL MEJOR
Deejays:
Meldevo (El Mejor, Chillout, More than Classix, etc)
Cliffhanger (Club Caribbean, Brasil Bar, etc)
Dus maak je agenda vrij voor AN EVENING WITH LADY LEGENDS. Ondanks dat er een breed scala aan verschillende soorten tickets is, adviseren wij iedereen snel een kaartje te halen, want de eerste editie was vrij snel uitverkocht.
An Evening With….. Lady Legends
Datum: zaterdag 17 mei 2014
Locatie: Panama Amsterdam
Adres: Oostelijke Handelskade 4, Amsterdam
Tijd 22:00 – 05:00 uur (vrijkaartje of gastenlijst geldig tot 00.00 uur)
Aanvang optredens: 00:30
Minimum leeftijd: 21+ – BIJ TWIJFEL ID VERPLICHT!
Dresscode: Classy, dus geen: slippers, sneakers, petjes, etc.
VVK KAARTEN à 25 EURO (more at the door) verkrijgbaar bij:
Online:
www.aneveningwith.nl
www.partyclick.nl
www.panama.nl
Hardcopy tickets: Café de Draver. – 2e Oosterparkstraat 2, Amsterdam
Pico Records – Bijlmerplein 520, Amsterdam ZO
Free Record Shop
Voor Vip tickets en Vip tafels kan gebeld worden met 06-54210528 of met 06-55125562 of met 06-54778668.