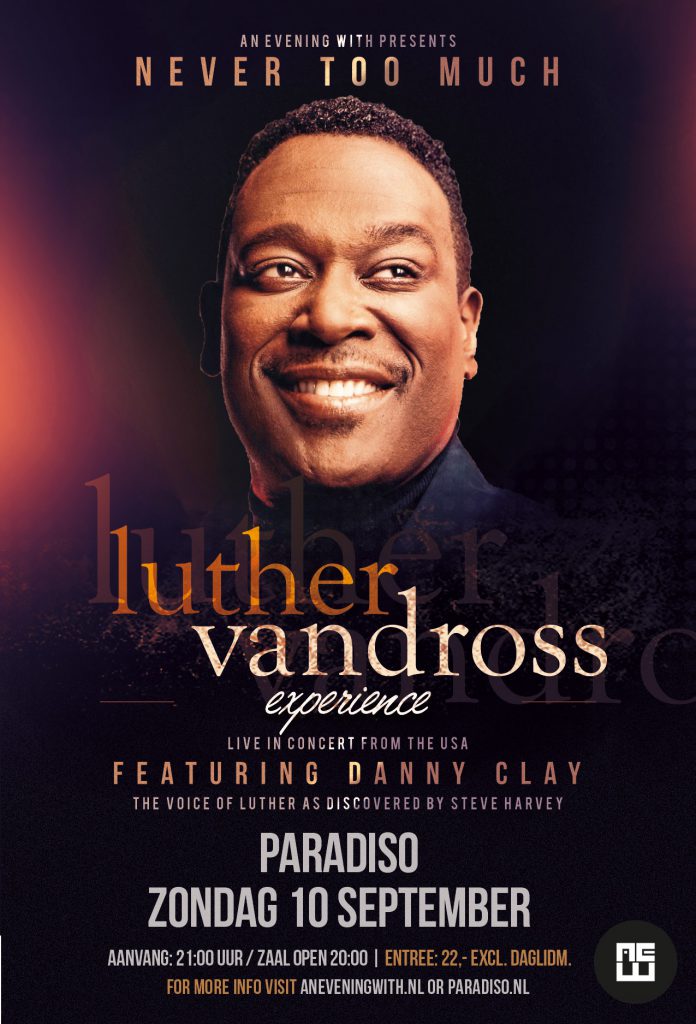 NEVER TOO MUCH: THE LUTHER VANDROSS EXPERIENCE feat. DANNY CLAY
Een ervaring die je vanaf het begin zal doen verbazen, een ode aan de meest indrukwekkende stem, aan de artiest die we allemaal in onze harten hebben gesloten om zijn muziek, zijn persoon en onze herinneringen: LUTHER VANDROSS
Wie krijgt daar nou ooit genoeg van? NEVER TOO MUCH!
Danny Clay, in Europa nog "on-ontdekt" , maar door Steve Harvey na zijn live optreden in de gelijknamige show, meteen verkozen tot "The voice of Luther Vandross" .
Een ongelofelijke zanger die niet iemand nadoet, maar een zanger in het bezit van een stem die je kippenvel zal bezorgen.
DE ENIGE met een stem die So Amazing klinkt en die Luther eer aan doet, een stem waardoor je het gevoel krijgt dat deze legende er nog is.
Voor het eerst zal hij live te zien en te horen zijn in Nederland op 10 september 2017, in de poptempel van Europa.
Luther Vandross werd geboren in New York. Hij begon zijn carrière in de jaren zeventig als achtergrondzanger van onder meer David Bowie, Carly Simon en Donna Summer. In het begin van de jaren tachtig was hij te horen op de eerste elpee van de groep Change. Zijn eerste grote hit kwam van zijn eerste soloalbum, en heette "Never too much".
Hij kreeg maar liefst acht Grammy Awards en postume in 2014 een ster op de Walk Of Fame.
An Evening With …presents : Never Too Much, The Luther Vandross Experience feauturing Danny Clay, omdat we er in het Here and Now nooit genoeg van zullen krijgen!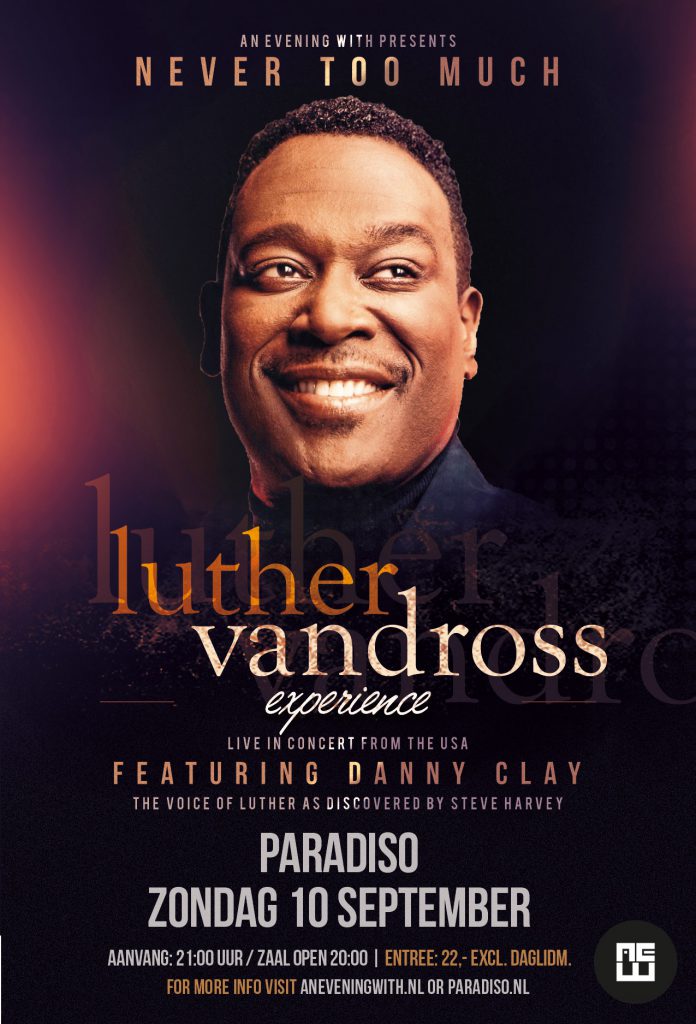 Ready to book The Luther Vandross Experience featuring Danny Clay? Fill in the form to get started
[contact-form subject='Inquiry Danny Clay (AEW)'][contact-field label='Name' type='name' required='1'/][contact-field label='Email' type='email' required='1'/][contact-field label='Phone Number' type='text'/][contact-field label='Name Organisation' type='text'/][contact-field label='Website' type='url'/][contact-field label='Even Location (City/Country)' type='text' required='1'/][contact-field label='Event Type' type='select' required='1′ options='Concert,Festival,Corporate Event,Radio or TV,Other'/][contact-field label='Event Attendance:' type='text'/][contact-field label='Comment' type='textarea' required='1'/][/contact-form]